Limberoller® are developped by JOY (USA), manufacturing quality is the same but references have change during the years.
Please note Joy was only distributed by EM (Equipement Minier), then SECOMA, then LOR TP and S.A.E.F. (you can read this on the iron hook of the flexibles rollers).

On the iron hook you can find 2 references :
40 152 (Limberoller® for belt widht 400 à 900)
40 154 (Limberoller® for belt widht 1 000 à 1 400)
| | |
| --- | --- |
| References on the hook of Limberoller® they do not allow to know witch width of belt but you can know if you have or not original Limberoller® (for more informations about copy : click here). | |
Thermoplastic hooks and polyurethan disc don't exist with Joy.
If you search an old reference JOY / Limberoller® you can find it bellow.
| | | | |
| --- | --- | --- | --- |
| belt width | Designation | Ref. JOY | Current ref. |
| 400 / 16" | LR 400 N + F | 524052-1 | 389.0010 |
| 500 / 20" | LR 500 N + F | 524052-2 | 389.0011 |
| 650 / 26" | LR 650 N + F | 524052-3 | 389.0012 |
| 800 / 32" | LR 800 N + F | 524052-5 | 389.0014 |
| 900 / 36" | LR 900 N + F | 524052-6 | 389.0015 |
| 1 000 / 40" | LR 1 000 N + F | 524052-7 | 389.0016 |
| 1 200 / 48" | LR 1 200 N + F | 524052-8 | 389.0017 |
| 1 400 / 55" | LR 1 400 N + F | 524052-9 | 389.0018 |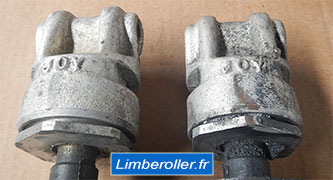 Other references :